We are a
European platform


focused on integrating systems and aggregating data.

We deliver an optimized and data-based platform for road freight.
European road freight is worth 350 billion euros.
The logistic sector is undergoing large-scale digital transformation where one of the key aspects is supply chain transparency.
CO3's goal is to gain a status of a trusted infrastructural partner by connecting the global supply chain.
About us
CO3 is made by people with years of logistic experience and in-depth industry knowledge. Meet the managing team.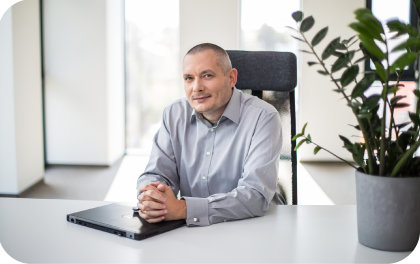 At CO3 his responsibility is focused on product and technological development.
21 year ago he began his journey into IT industry by creating guides and tutorials published online. He designed and developed software for more than 20 firms from the commercial and transport industry. In the meantime he worked as a network security SME at DELL Sonicwall. His domain is digital transformation and IT business integration. Before founding CO3, he gained experience in various companies such as: Tubek Sp. z o.o., CSS Corp, DELL Sonicwall, Trans.eu.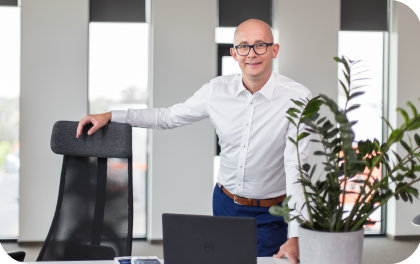 At CO3 he is responsible for sales, finance, and partnerships.
Logistician with 16 years of experience, and university lecturer for the last 7 years. His interests include the newest technological solutions for the supply chain which he also develops as a CO3 co-founder. Before, he supported the development and expansion of the Trans.eu platform in western Europe. He was also responsible for opening the local branch and first warehouse of Apreo Logistics (today CH Robinson).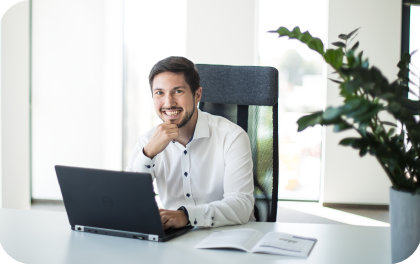 At CO3 he works on strategy, business development, investor relations, and partnerships.
Working for 7 years in Scania, he gained experience in development, product management, and portfolio strategy. Strategy and growth consultant at the digital freight forwarder unicorn sennder. Passionate about product strategy and customer-driven innovation.
He is passionate about product strategy and client-centered innovations.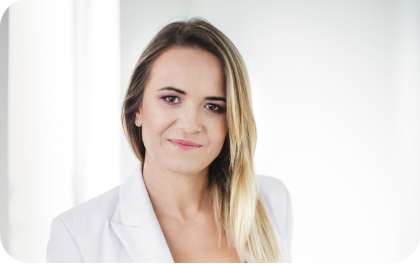 As one of the co-founders, in the initial phase of CO3's development she was responsible for the implementation and support of clients.
Positive energy in daily work and building relationships with customers as key values at work, gave CO3 the basis for developing processes for effective communication with customers.
While focusing on users' expectations and concentrating on solving their problems allowed the accurate design of further functionalities on the CO3 Platform making Agnieszka co-responsible for product development.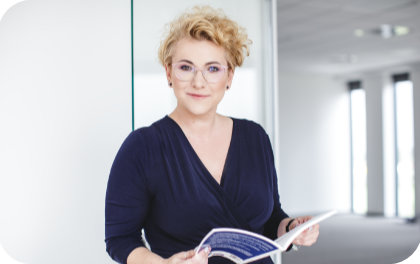 At CO3 her main areas of expertise are project management, HR as well as internal and external communications.
She gained 12 years of experience in marketing and project management at companies such as Selena FM S.A (global leader in construction chemistry) and Trans.eu (one of Europe's biggest logistic platforms). She was responsible for building and implementing marketing and communication strategies in Poland and abroad.
She's passionate about people and communication, believing that with these two aspects everything is possible.
About us in
numbers
50 000
We monitor over
50 000 vehicles
25
We partner with companies
from 25 European countries.
1800
We partner with 1800
transport ht companies
30
Our team consist
of over 30 people
380
We've got 380 telematics
providers in our database
What our clients say about CO3

Transport Manager Alkla GmbH
Michał Górka
"We're one of the first companies that started cooperating with CO3. Since the beginning, we were surprised by the flexibility, responsiveness, and effectiveness of its IT department.
Implemented solutions are intuitive and clear for users. Provides solution is practical and useful in everyday control of freight. It makes business easier for us and our clients"

Koordynator Floty w Futura Cargo
Tomasz Pachuta
"The future of logistics is focused not only on flexibility and effectiveness of the operational side of business but also on telematics. Thanks to our partnership with CO3 Platform we can meet our client's needs by constantly raising the quality and telematics data transfer rate. At the same time, we maintain the client's and carrier's minimal involvement. This allows us to save very valuable time."

Manager NexGen Logistics Ltd.
Kaloyan Atanasov
"CO3 platform is innovative integration solution. It brings the power of IT technologies to the transport & logistic business. We have a splendid collaboration and support from CO3 team."

Dyrektor Operacyjny w TRANSSPED SP. Z O.O. SP.K.
Mariola Glinka
"The development of such platforms as CO3 is crucial in times of digitalization. We're happy to be a part of this project, keeping our fingers crossed for further development of this best, and versatile tool that CO3 is."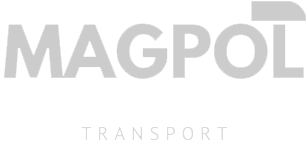 Planista Transportu w MAGPOL BIS
Damian Milczyński
"We work with CO3 for less than two years. Since we've started our partnership, the level of our services and satisfied clients went up. With a clear conscience, I can recommend CO3 to anyone."

Wiceprezes ds. Produktu w sennder GmbH
Philip Jonas
"At sennder, we pride ourselves on offering real-time tracking solutions and providing a visual overview of the supply chain to our shippers and carriers. We value our collaboration with CO3, as they have a very carrier-oriented approach and provide us and our carriers with dedicated support"

Contact
Reach us via form available below or write directly at:
hello@co3.eu
contact form
homepage
"*" indicates required fields