Improving data quality
The use of modern IT systems in logistics and transport brings measurable benefits. However, in order to take full advantage of the opportunities offered by in-depth information analysis, the quality of the data collected must be ensured.
The aim of implementing IT systems in logistics is to automate repetitive tasks and optimise processes, especially those with a high volume, and as a result: to generate significant savings. However, the value of recommendations resulting from data analysis is limited by their relevance, completeness and the possibility of their effective transfer between disparate systems. That is why CO3, in carrying out pilot projects, is focusing its activities on improving the quality of collected data through new sources of data acquisition and enabling their automatic import into IT systems used by TSL companies, in line with the motto behind CO3's brand name – Connect Communicate Cooperate. This motto is understood by CO3 as follows:
Connect – enabling carriers to collect high-quality data and make them easily available to shippers for a more efficient exchange of information on ongoing transport orders;
Communicate – creating a data architecture that allows seamless communication and transfer of data between the diverse systems used by shippers' and that can maximise the benefits of data processing;
Cooperate – providing a platform for the effective exchange of data between IT systems used by business partners in logistics and opening up the possibility of automating processes based on data shared with each other.
In order to realise this even more fully, CO3 aims to popularise the possibility of using advanced data sets – high query frequency location data packages enhanced with information from factory-built GPS devices in trucks and trailers and semi-trailers.
For example, by having access to combined data within a single package and transmitted continuously:
from the tachograph,
on-board computer,
EBS brake system,
GPS transmitter
ETA can be calculated with a high degree of accuracy and can thus effectively plan loading/unloading and the timing of just-in-time delivery tasks, as well as enforcing ecological requirements on subcontractors (based on engine type and emission class, fuel consumption or driving style).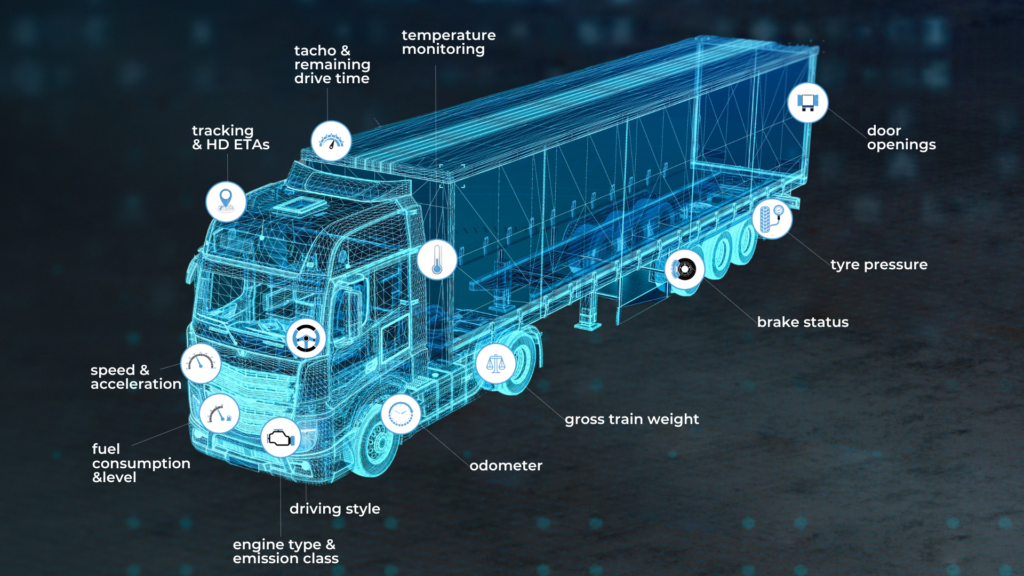 ---